At Community Players Theatre:
People artistically change the world
By Bruce Parrish, Historian and Anthony Holloway, Board of Governors Emeritus
Did you know that a handful of people could change the world by creating a place of hard work, dedication, and artistic beauty? That is precisely what happened in 1923. A women's club met and discussed creating a group to perform some amateur theatricals.  They wanted the opportunity to display their talents and the skills they had learned elsewhere. Now eighty-one years later, Community Players continues in that tradition by developing six theatrical productions this year.
"Community Players is one of the oldest community theatres completely staffed by volunteers."
Community Players has several distinctions. It is one of the oldest community theatres completely staffed by volunteers. Community Players has been able to present many shows shortly after their Broadway run and, on many occasions, presented the first amateur production of these shows in the United States. Many students from Illinois Wesleyan University and Illinois State University supplemented their education by working on shows at Community Players. The theatre has provided opportunities for anyone from McLean County and the surrounding communities to display their talents in plays, musicals, and children's productions. Moreover, from time to time, the amateur experience has encouraged someone to attempt a theatrical career by either returning to school or auditioning for theatres in Chicago, St. Louis or other cities.
"It's first production of Overtones in March of 1923"
Often a group starting out has no home and Community Players started just that way. Its first production of Overtones in March of 1923 was presented in the Turner Hall. They went on to use the facilities at the Illini Theatre (now the MARC Center next to Lucca Grill), Bloomington High School (the former BJHS building on Washington Street as well as the current building on East Locust), the old Normal High School, Illinois State Normal University (Old Main), The Majestic Theater and the Scottish Rite Temple (currently the Bloomington Cultural Center for the Performing Arts). This pack of traveling gypsies continued performances indifferent locations the next 41 years.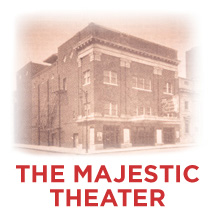 In 1957 some of the leaders of the group put their heads and funds together to purchase the Esquire movie theatre on Madison Street just south of the Pantagraph building. It had 300 seats and air conditioning. The deal was negotiated but never completed. The city decided to condemn the building to create new city parking lots so Community Players had to find a new home.
Ultimately they settled at their current location at 201 Robinhood Lane (off Towanda Avenue next to the new postal service center). The new building took shape and opened with Death of a Salesman in 1962. An addition was built in the early 1970's and, by 1981, the group had paid off the mortgage for the entire structure. Air conditioning to enhance audience comfort was installed for the 70th Season. Now Community Players has the distinction as one of the few amateur theatre companies that owns the building it occupies without depending on municipal or state funding for its structure.
Famous authors and composers have had their material realized on the stage at Community Players. Community Players produces two or three musicals each season by such noted writers/composers as Rodgers and Hammerstein, Lerner and Lowe, Stephen Sondheim, Sir Andrew Lloyd Webber, Jerry Herman, Frank Loesser, and Cole Porter. Plays by Eugene O'Neill, Arthur Miller, Ken Ludwig, Neil Simon, Agatha Christie, Aaron Sorkin and many other contemporary authors are included each season.
"Community Players encourages everyone to volunteer, audition and join us in the audience"
As an amateur theatre group, Community Players encourages everyone in the area to volunteer for staff positions, audition for upcoming productions (for either on stage, backstage, or the orchestras) and, of course, join us in the audience for all shows. It has been an eventful and exciting continuous journey from Overtones in 1923 at the Old Turner Hall to our current season of live theatre.