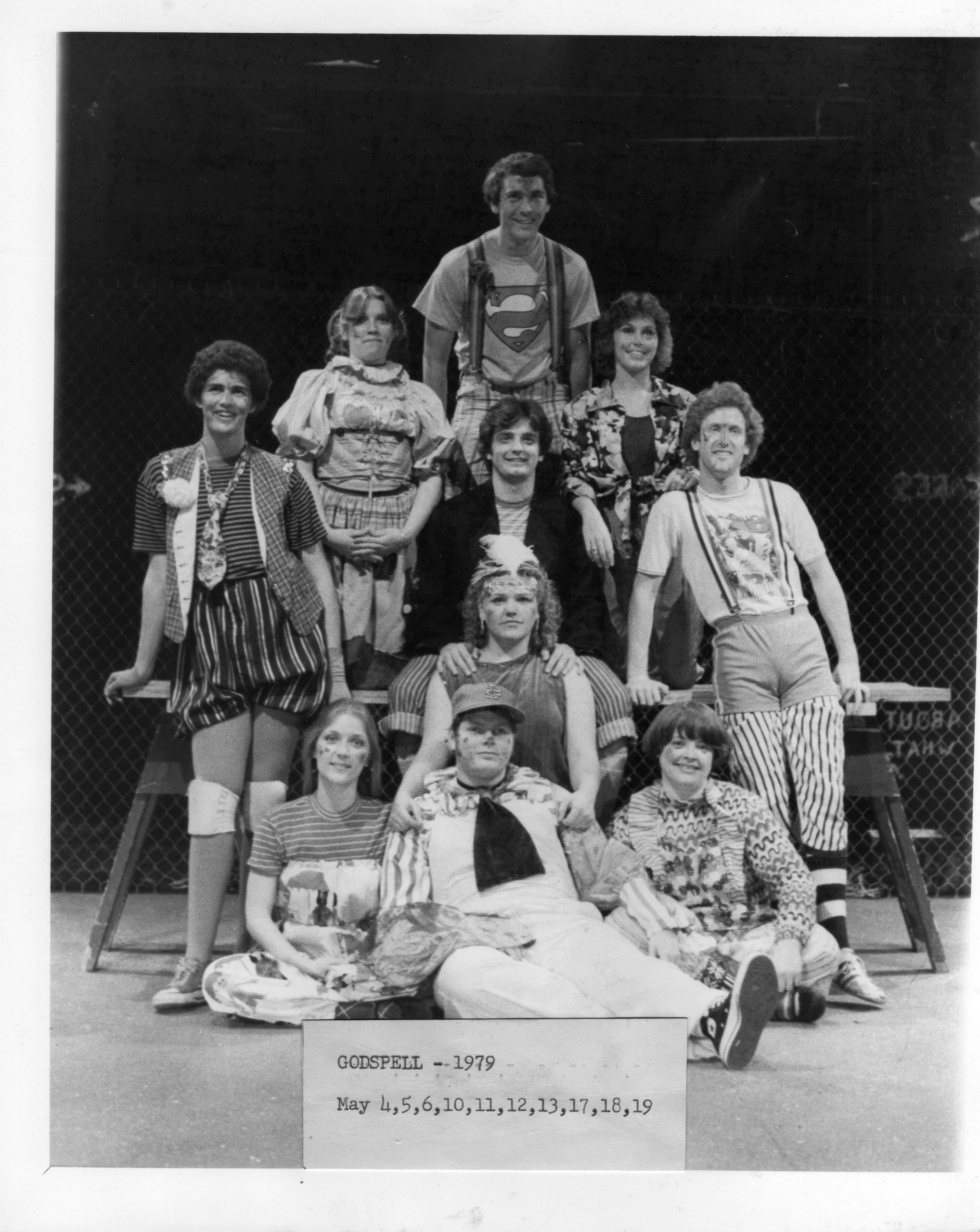 Synopsis
A small group of people help Jesus Christ tell different parables by using a wide variety of games, storytelling techniques, and a hefty dose of comic timing. An eclectic blend of songs ranging in style from pop to vaudeville is employed as the story of Jesus' life dances across the stage. Dissolving hauntingly into the Last Supper and the Crucifixion, Jesus' message of kindness, tolerance, and love comes vibrantly to life.
Music and New Lyrics by Stephen Schwartz
A Musical Based Upon the Gospel According to St. Matthew
Originally Conceived and Directed by John-Michael Tebelak
Originally Produced by Edgar Lansbury, Stuart Duncan, Joseph Beruh
Historian's Corner
The final show of the season was the musical "Godspell," which introduced the use of an amplified pit orchestra in the rear area of the stage. The rarely performed prologue was used, and the actors sat throughout the audiences. During the blast of the Shofar Horn, the actors assembled onstage and then the show began. Because the proscenium wall was being replaced, the exterior walls had to be pulled down, so audience members were seated in a three quarter round manner, and the orchestra was surrounded by chain link fence. Chairs were added onstage to offset the loss of seats due to the use of a ramp that went from the center of the apron of the stage to the back wall of the auditorium.
After the very successful ten night run, the new proscenium, which is still in use today, was installed to increase stage space. "Godspell" was only the second show done in a three-quarter round setting (the first was "Death of a Salesman" in 1962). During the run of "Godspell," the voting for the awards banquet was held. The Gala Awards Banquet was held on Saturday, June 9, 1979.
During the awards banquet, Dr. Wilson Baltz made a slide presentation called, "I Foresee a Future," which was a history of the Community Players from 1923 through 1979 set in the context of things that occurred in that historical time period. It was the only documentation the Players had of their history until the 75th Anniversary Season Booklet. Also at the award banquet, a special award was presented to Mr. and Mrs. Dean Litt for their many years of service to the organization. It was the first presentation dedicated to "Friends of Players." The Awards Banquet was so successful that it was announced the program would continue throughout the next season.